Geoscience Testing Laboratory (GTL) pro-
vides geotechnical investigatio
News
GTL Certified to ISO 14001 & OHSAS 18001
01/12/2016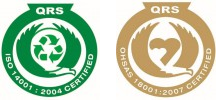 We are pleased to announce that Geoscience Testing Laboratory LLC has successfully completed the certification of ISO 14001 "Environmental Management System" and OHSAS 18001 "Occupational Health & Safety Management system".
Our Health Safety and Environment Management System consist of integrated ISO 14001 and OHSAS 18001 standards and this HSEMS is our central strategy for developing a safe laboratory and environmentally sustainable testing laboratory business in the region. This approach is clearly specify in our Integrated HSE Policy.
GTL is committed for the Implementation of proper Health, Safety and Environment Management System as per the requirement of ISO 14001 and OHSAS 18001 standards. To reduce and eliminate the environmental impact our activities as well as to minimize risk of occupational safety & health to our employees and other interested parties. In order to improves business for having a positive effect and protection on investment, sales growth, competitive advantage, environment management, employee motivation and by creating a risk free organization.
This guidelines provide a comprehensive model for health safety and environment management systems that can make our company competitive in the field of testing service requirements. Generally, consistent and proven management approach to HSEMS risks, present and future, deployment of method for continual improvement and sustainability.